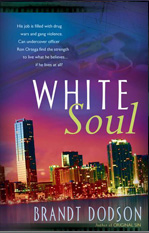 Undercover DEA agent Ron Ortega has a decision to make … do the right thing, or do the desired thing?
His wife is expecting their baby soon and wants him home.
His superiors — and his own naked ambition — want him in Miami.
But when he infiltrates one of the city's most vicious gangs, someone wants him dead. And they'll stop at nothing to achieve their goal. In a test of his faith, he must decide if he will succumb to the challenges and the temptations that surround him or live the life he's always proclaimed. Or for that matter, whether he'll live at all. Purchase Today!
"White Soul is Brandt Dodson's first novel since his groundbreaking Colton Parker Mystery series. This is indeed a worthy addition to what is already a stellar body of work. Dodson writes at a frenetic pace, always holding the reader's attention through short, concise chapters that continually pack a punch. The action and suspense never let up, and the explosive conclusion is both thrilling and satisfying." —BookShelfReview.com
I could easily see this book on the big screen with shoot outs, car chases, and the excessive lifestyle of the drug dealers. And then there's the ending, oh yes, you must get to the ending, where another big bombshell awaits you…Have I mentioned that I like this book!! You will, too. Buy it TODAY! —TheSuspenseZone.com