After closing a high-profile case, Colton Parker's life is beginning to turn around. His business has money in the bank and a growing clientele. His relationship with FBI agent Mary Christopher is developing. Things are looking up … until his daughter, Callie, vanishes.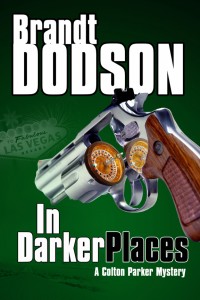 The search for Callie leads Colton from Indianapolis to Las Vegas — and a world where light is exchanged for darkness and the truth is sacrificed for a lie.
If Colton is to save Callie in time, he will need to confront evil where it dwells — a confrontation that will affect both father and daughter for all eternity.Purchase Today!
"Dodson's dialogue zips across the page with chemistry and bristles with Parker's anger and frustration. I really enjoy this mystery series because while there is a Christian undercurrent, Parker isn't a believer and has a hard time dealing with those who do have faith…Dodson's writing reminds me of Chandler and Hammett, and there were moments that made me gasp with shock. Terrific dialogue and taut suspense make this a must read." —Midwest Book Review
"The Lost Sheep by Brandt Dodson is the fourth book in A Colton Parker Mystery series. I love this mystery series because the characters and their relationships are believable and the plot will have you on the edge of your seat as the clock ticks on! Your heart will go out to Colton as he searches desperately for his daughter. Read on, friends!" —Five Star Book Reviews
"Brandt's fourth novel is strong proof that this prolific writer gets better with each new book. The Lost Sheep is another hard–driving story that dares the reader to put it down before it's finished. Heart–stopping events, a father's compulsion to save his daughter, and an intriguing character dynamic kept me glued to the story. I was fascinated by revelations brought to light concerning the story's setting (Las Vegas) and I look forward to more from this affable, strong Christian writer" —Phil Dunlap, author of Fatal Revenge
Originally titled: The Lost Sheep