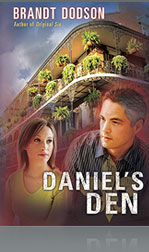 Daniel Border is a successful New Orleans stock analyst, living his dream. Laura Traynor is a single mother, struggling to put food on the table.
But when unseen forces send assassins after each of them, fate drives them together as they are forced to flee their common enemy.
In a story that could have been ripped from today's headlines, Daniel and Laura are pursued by a cabal of the power elite for whom a dollar stolen is a dollar earned – and who will stop at nothing to earn as much as they can. Purchase Today!
"Brandt Dodson has made a name for himself penning authentic and pithy crime thrillers with expert characterization, plotting and timing. Daniel's Den reveals his skill is not only confined to that genre. With his usual tight pacing, multiple plot twists and characters that ooze authenticity, this story will take you on a fast paced ride through the intricate world of investment banking, money laundering and the down and dirty world of men willing to compromise their careers and integrity for a profit." —Relz Reviewz
"With Daniel's Den, Brandt Dodson continues his impressive hot streak of must read fiction. From the opening lines this is a gripping story that slowly builds steam as we are effortlessly carried towards an intense and action packed final act. Daniel's Den only solidifies Brandt Dodson's standing as one of the best storytellers in this market."
—The Christian Manifesto
"Daniel's Den is a race to the finish thriller with characters who tug at your heart and pull you into their struggles."
—TheSuspenseZone.com