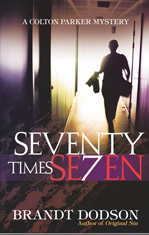 Lester had everything a man could want … a beautiful home, a thriving business, and money to burn. But he was alone — very alone. Until he met Claudia.

The attractive and effervescent Claudia was everything Lester could hope for — she brought a joy into his life that his riches couldn't buy.

But then Claudia disappears … with no explanation and no trace.
Hired to find the missing woman, Colton Parker soon finds himself in a race against time to locate an international assassin and stop a murder for hire.Purchase Today!
"I thoroughly enjoyed this novel. Colton Parker is like a descendant of the great noir detectives of the forties and fifties. As I read Seventy Times Seven I was reminded of how satisfying a well–crafted mystery novel can be. I'll be on the look–out for the next in the Colton Parker Mystery series." —Book Talk News
"Brandt Dodson's writing combines two of the best traditions of the private eye novel: a clean, laconic style and plotting based on believable human emotions and reactions." —Terence Faherty, Shamus–winning author and the author of Kill Me Again